SHG
OASIS SHG program helps the poor women develop soft skills from the marginalized circumstances for their upliftment.
HEALTH
OASIS free medical camps for the very poor slum and village people help them regain their health from the illness like tuberculosis, etc.
TRAINING
OASIS vocational training programme helps enhance the opportunities for employment of the girls and women from the marginalized circumstances.
EDUCATION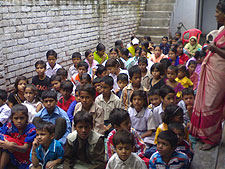 OASIS strives hard to provide education to children who are deprived of it due to unavoidable circumstances to enable them to the modern life standards.